Truck Accessories are add-ons that enhance your truck's performance, protect the vehicle, and make it more aesthetically pleasing. They range from exterior accessories like lighting and mud flaps to interior add-ons that provide more functionality and storage.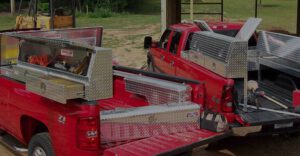 For example, truck racks can haul ladders and gear, while truck tool boxes help save space by organizing tools neatly. Other useful truck accessories include first aid kits, air compressors, and road flares.
LED light bars can improve your driving visibility, especially if you use your truck for off-roading and nighttime activities. They emit brighter, more colorful light than headlights and fog lights. They can also be used to signal that your vehicle is displaying an emergency, such as warning other drivers of a road hazard. The technology behind them is advanced and can be controlled by your smartphone.
When selecting a light bar, you must consider the size of your vehicle and how much space you want it to cover. You may want a small, narrow light bar that is only 10 inches wide, or you might prefer one that is much wider and longer. If you are unsure of what size to select, you should consult the manufacturer for specifics.
The quality of the light bar should be considered as well. Look for a model that has durable materials that can endure a beating from the elements. Some manufacturers offer warranties that cover the bar for a year or more.
Look for an LED light bar that has a high wattage rating. This will ensure that it is bright enough to illuminate a large area. You should also look for a model that offers several different colors and modes. Some of these models can be controlled via the Govee app on your phone.
It is also important to check out the state laws regarding the use of LED lights on your truck. You don't want to get a ticket from the police or a Department of Transportation inspector due to illegal lighting on your vehicle. This can be very expensive. Ensure that you know the laws in your state before making any purchases.
Tonneau Covers
A tonneau cover is one of the more expensive truck accessories, but it offers a ton of benefits. By covering your bed, you protect your gear from the elements and prying eyes. It also helps you get better gas mileage by reducing air drag in your truck. Plus, it adds a nice look to your pickup, which increases its value and style.
When you're shopping for a tonneau cover, there are lots of styles and brands to choose from. How you use your truck is the biggest factor in deciding what type of cover you want. If you're hauling stuff all the time and getting in and out of your truck bed frequently, you want a cover that's easy to open and close.
There are four main types of tonneau covers: soft roll-up, hard folding, hinged, and retractable. Soft covers are typically made of vinyl or another durable fabric. Hard covers are crafted of aluminum or another sturdy material. Retractable and hinged covers fold up or down into a box over the tailgate, allowing you to access your truck bed and cargo with ease.
A hard folding cover like the LINE-X Stealth hard tri-fold tonneau cover is a great option if you're looking for a low-profile design with solid panels that are flush mounted. It has a sleek and modern design that's complemented by premium components. Plus, it's made with a UV-resistant black matte finish that's scratch and dent-resistant. It's available in several sizes to fit your specific truck and is simple to install. You can even choose a powered retract model for faster opening and closing. There are even a few that can be operated with a key fob, if desired.
Bed Liner
If you want to protect your truck bed, a liner is an excellent choice. Truck beds take a beating, and without a liner, they can quickly get dinged up from hauling cargo around New Hampshire. A liner not only protects your truck, but it can also help increase its resale value.
There are two types of truck bed liners: spray-on and drop-in. Drop-in liners are plastic mats that fit into your truck's bed. They're easy to install, but they aren't as durable as a spray-on liner. In addition, they can cause corrosion in your truck's frame and may void your vehicle's warranty.
The best drop-in liners are made with PVC vinyl, which is both durable and water-resistant. They don't contain any Prop 65 materials and can withstand harsh weather conditions. They can be rolled up when not in use, and they're easier to clean than other truck bed liners.
Spray-on truck bed liners are more expensive, but they're worth the investment. They keep your truck's bed from rusting, and they can prevent UV rays from fading the paint. They're also water-resistant and help to deaden sound and vibration. One of the best spray-on liners on the market is the Custom Coat Urethane Spray-on Truck Bed Liner Kit. It comes with a liner base, standard hardener, and a spray gun with a regulator.
A spray-on liner is a better option than a pre-formed plastic liner because it can be applied to any area of your truck bed. It also takes less time to apply, so it's a good choice for people who have busy schedules. You can even spray your liner in the garage if you're worried about the weather outside.
Running Boards
Get in and out of your truck or SUV safely and with style by installing a set of running boards. Also known as "step bars," "nerf bars," and "rock sliders," these aftermarket accessories are a popular way to protect your truck's lower body and make climbing into your vehicle an easy task. Plus, they can add a tough look to your ride, which sets it apart from other vehicles on the road.
Typically made from metal like stainless steel, these aftermarket accessories mount to the front side of your truck or SUV underneath the doors. They have a wide stepping surface that provides a comfortable step for passengers to climb onto your vehicle. Depending on the style you choose, you can find running boards that mount with pre-drilled holes, which makes them an easy plug-and-play installation. Some even feature anti-skid pads to ensure a secure footing.
Other running board designs are tubular and include a section cut out for the passenger's feet. This is an alternative to using a traditional nerf bar and offers better grip for passengers. Some running boards also have indented treads or a textured surface to further increase traction for boarding the vehicle. They are available in a range of different finishes and colors to match your ride's color scheme.
If you're looking to install a set of running boards for your truck or SUV, check out our selection of APS products. These rugged and durable running boards are crafted from aluminum with corrosion-resistant coatings, so they're built to last. They also come with a 5-inch-wide stepping surface for passengers and have an aggressive yet sleek design that complements any rig.
Toolbox
Truck Accessories are designed to improve the functionality of your vehicle. They can help you haul more cargo, protect your vehicle, and improve visibility while driving in reverse. They can also make your ride safer by providing extra lighting and backup alarms. Some of these truck accessories are available for both your front and rear trucks, while others are specific to either the driver's or passenger's side.
A toolbox is a large, often rectangular, metal cabinet with multiple doors that can hold tools and equipment for a tradesperson. It can be a permanent storage solution to complement a tradesperson's toolbelt and apron, or it can be used in locations where no place is available to set down tools during a work session. A toolbox is a common addition to mechanics' vehicles. It can be made of steel, aluminum, or fiberglass, with the latter being more resistant to damage and corrosion from chemicals than its heavier metal counterparts.
Truck drivers like to add a little flair to their rides, and there are plenty of ways to do it. Custom mud flaps, LED light kits, and tire valve accents are a few popular choices that let them show off their personalities while protecting their truck. Other truck accessories, like dash cams and Alexa-enabled tech to give directions and control their music, can make the drive safer and more enjoyable.
Emergency road kits are another important addition that can help you avoid getting stranded. These are typically equipped with first aid kits, flares, jumper cables, and more. Having these in your truck can be a lifesaver in an accident or even just when you need to change a flat.